Show caves in Peninsular Malaysia are few in number, as the idea of show caves has never really been developed. Compared to the 'western' world and other countries in Asia, there are few caves open to tourists. However there are plenty of cave temples, especially around the Ipoh area in Perak. And several caves are now used for adventure caving.

The first real show cave to open in Peninsular Malaysia was Gua Tempurung in Perak. However Gua Kelam in Perlis has been used by the public for decades as a short cut through the hill and was later was equiped with electric lighting.
Cave tourism has never really become popular in Malaysia. See my article on Speleotourism written for the Speleological Tourism Section of the Brazilian Speleological Society.
| | | |
| --- | --- | --- |
| sunbeam at Kota Gelanggi | Gua Tempurung | Gua Kelam |
THE SHOW CAVES

PAHANG

KOTA GELANGGI

The Kota Gelanggi caves complex is of historical importance, first recorded by Cameron in 1882 in the Royal Asiatic Soc. Journal. Since then many other people have written about the caves, but have been inconsistent with the naming. Various archaeological digs, especially by the Muzium Negara Department of Museum & Antiquities has revealed human remains dating 1500 years. In 1995, the caves were gazetted by the Pahang state government as a Historical Heritage Area,

The caves come under the control of Felda Residence Tekam. There are several caves open to the public, including Gua Sanding and Gua Penyu. Another is Gua Terang Bulan which has electric lighting and walkways (by 2014 the walkways were in a bad state of repair and I don't know if the lights still work). Guided tours are available.

Facilities - caves complex, car park, cafe and souvenir shop, rest areas and toilets. Opening hours: 9.00 am to 5.00 pm daily. Entry RM5. Cave fees extra, per group.

The nearby Felda Residence Tekam resort also offers a range of other activities such as plantation visits, trekking, fishing etc, as well as accommodation. They also do tours to Gunung Senyum caves.

Location and access - In the state of Pahang northeast of Temerloh. From Temerloh go north to Jerantut, then turn right (east) on to the Jerantut to Maran road No 64 which is a new wide road. Kota Gelanggi is about 25 km east of Jerantut. Or from the main Kuala Lumpur to Kuantan road, there are 3 turn offs to Kota Gelanggi. One is at Kg. Awah, one at Jengka Jaya, one is route 64 from Maran.

GUNUNG SENYUM CAVES

There are three limestone hills in this area, Gunung Senyum, Gunung Jebak Puyuh and Bukit Terus. There are many caves, some are archaeological sites. The area has been developed as a recreation park. Gunung Senyum is the most visited hill as it is the most easily accessible. There are more than 25 caves in the hill. Visitors can explore about 20 caves. Signboards list the caves and there are easy trails to explore the caves. Makam Tok Long is a burial cave.

Visitors can trek to the nearby Gunung Jebak Puyuh. There are several caves in this hill, some with beautiful stal formations. However the hill is under threat from quarrying.

There is also a trail up to the top of Gunung Senyum, although it was closed at the end of 2011.

Facilities - Car park. Food stalls open at weekends. Campsite, toilets, surau, chalets. Hutan Lipur management office.

Location and access - Southwest Jenka, in the Jenka Forest Reserve. It is well signposted from Temerloh. From the main Kuala Lumpur to Kuantan road (route 2), there are 2 or 3 turn offs all signposted to Hutan Lipur (Recreational Forest) Gunung Senyum . One is by the east end of the bridge at Temerloh, one at Kampung Awah. Follow the signs. 40km from Temerloh, 20 km from Bandar Pusat Jengka. Closed on Fridays.
| | |
| --- | --- |
| Gunung Senyum | Gua Makam Tok Long |
KENONG RIMBA FOREST RESERVE

Kenong Rimba has no show caves, but there are various caves which are visited by people trekking in the park. Kenong Rimba park borders its larger sister, Taman Negara. There is jungle, clear streams, cascading waterfalls and caves. Trekking groups go to explore the caves, swim in the rivers and camp.

Within the Kenong Rimba Park, there are several caves to explore. These include Gua Tinggi, Gua Tangga and Gua Kesong, also Gua Batu Telangkup, Gua Hijau and Gua Harimau. The park is being developed. There are now boat trips into one cave.

Facilities - Chalets, rooms and dormitories, also campsites at Kesong Campsite. Forest trails.

Location and access - Kenong is located in Lipis, near the town of Kuala Lipis, about 170 km from Kuala Lumpur. The park has only one entry point. From Kuala Lipis, the journey to the park can be made by river, which entails a 2 hour boat trip down the Jelai river, and then a short distance up the smaller Sg.Kenong to Tanjung Kiara. Alternatively one can catch a train to Batu Sembilan, then take a boat from the jetty across the Jelai and up to Tanjung Kiara. This is the access point to the reserve, although the park boundary is actually still 10 minutes walk away. There is now also a 4WD track. Unlike Taman Negara, visitors to Kenong Rimba can only enter with a guide. You can arrange a tour and guide from the hotels and guesthouses in Kuala Lipis. An average cost may be RM250 per person for 2 nights/ 3 days, inclusive of guides and meals.

GUA CHARAS

Not actually a show cave, but a temple cave, equiped with paths and electric lighting. Inside is a large reclining Buddha, as well as other Buddhist and Hindu statues.

Location and access - Charas Cave is about 30 km northwest of Kuantan at Panching on the Sungai Lembing road. Panching is accessible by bus and taxi, but the caves are about 4 km off the main road. RM2 entrance fee.
| | |
| --- | --- |
| Gunung Charas | Wrong info about Gua Tempurung age |
PERAK

There are many cave temples in the Ipoh area - see cave temples

GUA TEMPURUNG

Gua Tempurung was opened as a show cave in 1998. A 1.6 km river passage runs through the cave, but the total cave length is more than 4.5 km. The cave is fitted with walkways, stairs and electric lighting. There are a variety of tours of diferent lengths and degress of difficulty. Gua Tempurung is one of the best caves in the Peninsula with a series of huge chambers and some fine formations.

Location and access - Gua Tempurung is located at Gopeng, 24 km south of Ipoh. Gopeng is accessible by the North-South highway, or by the old Ipoh-Kuala Lumpur trunk road. The cave is about 4km off the main road, reached by a new access road. Cave is open every day except for Hari Raya, and tours are conducted between 10am and 4pm (with a break for Friday prayers). There are 5 tours.The shorter tours stay on the walkways, the longer tours involve adventure caving in the river. Note that since 1 April 2015 with the introduction of GST, Gua Tempurung also started a dual pricing system for locals and foreigners. For example the cost of Tour 3 has increased from RM11 to RM42.40 for foreigners.

Unfortunately, despite access being controlled whereby everyone is supposed to enter with a guide, the cave still suffers from graffiti and litter. Even the debris from the workmen is dumped in the cave. The graffiti and rubbish problem is getting worse, see Archives 2014.

Many tourist publications and websites say the cave has existed since 8000 BC and this has been copied in so many places. I have no idea where this mistake originated (see above photo). In Jan 2012 there was some more bad reporting about the age of the cave.
Gua Tempurung official site, [Update 2017, this link no longer seems to be the offical site but has moved to one of a tour group].
| | | |
| --- | --- | --- |
| rubbish in Tempurung | | rubbish left by workmen |
SUNWAY CITY / LOST WORLD OF TAMBUN

The Lost World of Tambun are running adventure caving trips to Gua Datuk and Six Mile Tunnel, though the caves are left in their natural state.

PERLIS

Perlis State Park was opened in 2002 and contains limestone hills, caves and forests. The park lies along the western border of Perlis, where Peninsular Malaysia meets Thailand, situated on the longest continuous range of limestone hills in the country, called the Nakawan Range. The Nakawan Range has beautiful, heavily forested slopes, sheer cliff faces, streams and extensive cave systems. The Park consists of Mata Ayer Forest Reserve and Wang Mu Forest Reserve with a total area of about 5000 hectares.

GUA KELAM

For decades the locals have used this cave as a short cut through the hill between Kaki Bukit and Wang Kelian. The surrounding area has been mined for tin since World War 1. In 1935 an Englishman had a 370m long wooden suspension bridge built through the length of the cave, to allow the miners to transport the ore. This walkway has since been used by pedestrians and motorcyclists to avoid the long detour up and over the hills. In later years the cave was fitted with electric lighting and turned into a tourist attraction. There are information boards throughout the cave. Outside the area has been developed as a recreation park. RM2 entry fee.

GUA KELAM 2

Gua Kelam 2 was developed for tourism and was used for adventure caving tours, but these seem to have stopped. Visitors used enter the cave on a trolley train then walk along a concrete walkway for about an hour, and exit at a high level entrance in the recreation park. People could see artefacts such as old water pipes and mining tools and wooden bridge across lakes. However the train ceased operation in 2013, see Archives 2015.

Location and access - Gua Kelam is located about 35 km from Kangar, at Kaki Bukit near Wang Kelian in northern Perlis.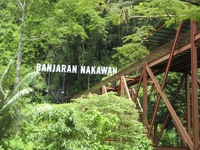 entry to Kelam 2
GUA WANG BURMA

Gua Wang Burma is used for adventure caving, and is located near the Park Visitor Centre. It is now compulsory to have a guide. The cave is now known as Gua Wang Burma I and II.

KEDAH

GUA CERITA

Gua Cerita (Cave of Legends) is famous for its legends. Not actually a show cave, however some boat trips stop at the cave. It is accessible by boat from Tanjung Rhu. A wooden ladder leads up to the cave. There are some ancient inscriptions which are said to be verses from the Koran. Some Arabic writing is said to be written by early visitors.

GUA KELAWAR

Gua Kelawar or Bat Cave is situated by the Kilim River and is only accessible by boat. From the jetty, a wooden plankwalk leads to the cave which is home to many bats. The walkway leads through the cave to another entrance.

TERENGGANU

GUA BEWAH

Gua Bewah is an archaeological cave located in the southern area of Tasik Kenyir in Terengganu. It actually lies within Taman Negara, the national park, although access is from Pengkalan Gawai (Gawai jetty) which is the main gateway to Tasik Kenyir. The cave has in recent years been partly developed for tourism, with a new jetty, sign boards and a display area featuring the archaeological finds. See photos of Gua Bewah.
SARAWAK & SABAH

MULU, NIAH

In Sarawak the most famous show caves are the ones in Mulu National Park, especially Clearwater, Wind, Deer and Langs cave. Niah Caves can also be considered as a show cave as the caves are equiped with boardwalks.

BAU

In the Bau area, Wind Cave and Fairy Cave are two show caves open to the public.

GOMANTONG, MADAI

In Sabah Gua Gomantong is the most visited cave, and is on the itinerary of many tour trips that go to the Kinabatangan area. Madai Caves are less visited but are equally impressive.
| | | |
| --- | --- | --- |
| Wind Cave, Bau | Gomantong | Madai resurgence |






© Liz Price 2005-2017

Page updated Dec 2017